From Ghosty to Mr. Perfect: Best Movies Featuring Kajal Aggarwal That You Can't-Miss
Kajal Aggarwal is one of the most well-known actors in the South Indian film industry. With her excellent acting skills and endearing personality, Kajal has established herself as an exceptional actor and has been cast in several Bollywood movies. She collaborated with several celebrities and received praise for her work. Over the years, she has appeared in numerous Telugu, Tamil, and Hindi movies. Her latest Tamil film Ghosty is all set to premiere on ZEE5 Global. Here are some other movies featuring the actress that you absolutely must watch.
Ghosty is a Tamil comedy-drama directed by S. Kalyaan and produced by Seed Pictures. The movie stars Kajal in a dual role as a cop and an actress. Apart from the actress, Ghosty also stars K. S. Ravikumar, Yogi Babu, Redin Kingsley, and Urvashi in prominent roles. The film had its theatrical release on March 17, 2023, and will now have its digital premiere on ZEE5 Global until April 14, 2023.
Mersal, starring Vijay, plays the triple role of a father and two sons. The action thriller begins with a few people in the medical field going missing, and the cop investigating the case suspects and arrests a doctor. Ultimately, the story reveals who is responsible for these crimes. Atlee Kumar's Mersal featured Kajal in a lead role. She portrays Vijay's love interest, Anu Pallavi. S.J. Suryah and Joseph Vijay were also part of the movie's lead cast. Aggarwal's acting in the film also garnered excellent reviews.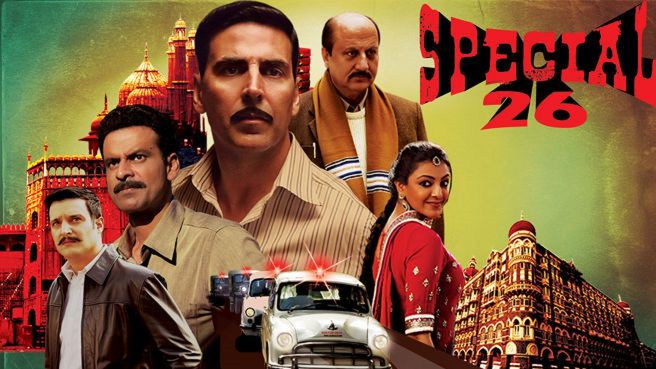 Alongside Akshay Kumar, Aggarwal plays the female protagonist's character in Neeraj Pandey's Special 26. She is a teacher named Priya Chauhan in the movie. Manoj Bajpayee and Anupam Kher also had major parts in the film. The film's plot focuses on con artists who pose as C.B.I. and income tax officials to swindle wealthy business people and politicians.
Vijay and Kajal play the key characters in AR Murugadoss's 2012 Indian-Tamil action thriller, Thupakki. Movie, Vidyut Jammwal portrays the antagonist, and Kajal plays Nisha, the wife of an army commander, Captain Jagadish Dhanapal (Vijay). Jagadish, an intelligence officer in the Indian Army, is the story's main focus as he attempts to locate, neutralize, and deactivate a sleeper cell.
Singh, It is produced by Kalaipuli S. Thanu of V Creations. am
Kajal was praised for her role in the blockbuster action movie. She portrayed the popular character Kavya Bhosle, Ajay Devgn's love interest. In the film, she shows the daughter of Singham's father's friend and industrialist, Gautam Bhosle (Sachin Khedekar). Kavya travels to Shivgarh and, via a series of hilarious incidents, falls in love with Singham. At first, she despises him, but she changes her mind once she observes his straightforward and honest character.
The Dasaradh-directed film Mr. Perfect came out in 2011. The romantic comedy received the Nagi Reddy Memorial Award for "Best Telugu Family" entertainer in 2011. Apart from Aggarwal, Raghu Babu, Taapsee Pannu, and Prabhas are also featured in the film. In the movie, Vicky, aka Prabhas's childhood friend Priya, is played by Kajal, a doctor.